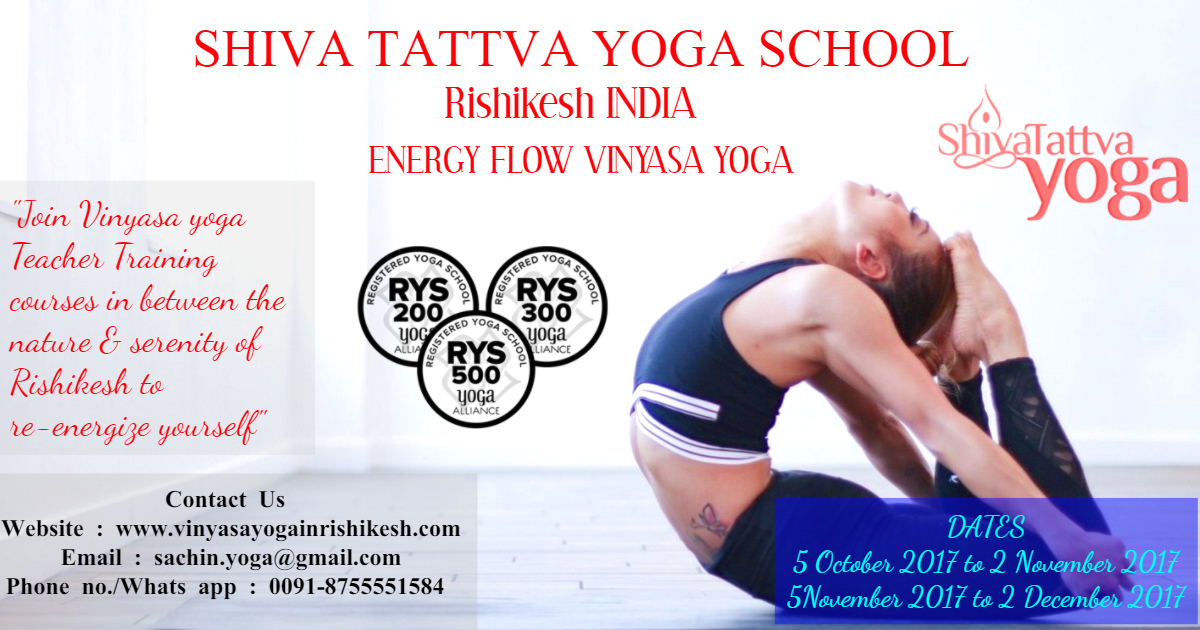 ---
Vinyasa Yoga Teacher Training in Rishikesh
Vinyasa Yoga School India in Rishikesh brings you a fundamentally strong Yoga Teacher Training in Rishikesh with 200 hours of Yoga Training. This training schedule is designed for 28 days of residential training in mesmerizing Rishikesh amidst the hills and terrains of this wonderland. Our Yoga school is situated on the banks of River Ganga with its pristine presence. Pure breeze full of oxygen flowing from the virgin forests and mountains will help you to attain a higher sense of involvement while practicing Kriya, Pranayam, Yoga in Vinyasa style and there are various benefits of yoga in human body.You will not only learn about the synchronizations of yogic postures with rhythmic breathing, but will also learn means to explore divinity inside you through these 200 hours Vinyasa Yoga Teacher Training Course in Rishikesh.
why you would like to explore this particular course?
Cleansing body by additional yogic techniques and nutrition
Increase strength, flexibility and maintain discipline
Refresh and clarify to increase your physical, mental and spiritual health
Strengthen your ability to share the joy in your life with others
Develop awareness, confidence and inspiration
Elevate energy and motivation
Improve your concentration and deepen your meditation practice
Level of course
Basic
Intermediate
Advance
There are many styles of yoga.If you are starting out a level 1 beginner class should be your first choice. A Basic course class will help you to understand the basics of yoga and beginning poses. After that you could progress and proceed next step to intermediate and advanced levels.
A level 2 class will generally be more aerobic, especially if it is a Vinyasa flow class. If you find yourself in a class that feels too challenging or over your head, you are always welcome to modify the poses to fit your fitness level . A level 2 class will also probably begin to incorporate more advanced poses such as inversions like headstand, handstand, forearm stand and backbends.
A level 3 class will be advanced. Teachers gives a Instructions about on alignment and the teacher will likely undertake that students know and understand the correct position or not.If your positions are not correct it will not good for your posings and it will not working to become a best.
Being a Good students
Being a Good student is important so you can study and Learn to make something of your life.Individual teachers within the same style of yoga will often have their own particular expectations as well.But his/her teaching way is different always. Style of doing poses different . If u keep practice and learning it is good because you could do it for inner satisfaction and you want to become a good student then you will be a good teacher.
Explore Vinyasa yoga with its core advantages
Vinyasa Yoga techniques are designed with the grace to offer you a deeper sense of realization and practice. You will be practicing yoga under the direct guidance of our teacher who is a certified yoga teacher E-RYT 500and a great human being devoted to spread the essence of yoga worldwide. You can not only learn various yoga postures, Vinyasa yoga movements and breathing synchronization, but can also practice them with deeper understanding of kriya and pranayam for an effective teaching and knowledge sharing. This 200 Hours Yoga Teacher Training will help you to build a basic foundation for becoming a yoga teacher and also offer you a certificate of merit from the Yoga Alliance USA after successful completion.
If you want to learn-How are these programs helpful?
If you are looking to join Vinyasa Yoga Teacher Training Course in Rishikesh India, then Vinyasa yoga in Rishikesh By Shiva Tattva Yoga School is one best yoga school to stop destination for your requirement. Get enrolled now in our 200 hour Vinyasa Yoga Teacher Training Course in Rishikesh and become certified yoga trainer.
---